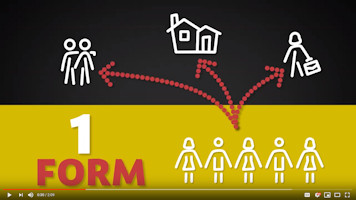 The BVOR Program is designed to resettle refugees identified by the UNHCR and submitted to Canadian Visa Offices abroad. It is only the families or individuals who are most in need of resettlement that are referred under this program. Click the image to the right to watch "Four Steps to BVOR Sponsorship" now.
It is called a "blended" program because it is a cost-sharing arrangement whereby IRCC and private sponsors contribute financially to support the refugees. Private Sponsors are also responsible for providing settlement support for the whole length of sponsorship.
The BVOR program enables the Canadian government to resettle more refugees because the BVOR cases are not included in either the Private Sponsorship number caps or the government assisted number caps. BVOR refugees have already been assessed by our Canadian Visa Offices overseas and have been deemed eligible, admissible, and as such, they are often travel ready. This translates into much faster processing times and significantly less paperwork for sponsors. The "blended" aspect of these cases means that the financial cost of resettlement is shared by the Canadian government and sponsors, making this model much more affordable for sponsors.
You can read all about the BVOR Program here. There are always a number of cases waiting for sponsorship. Contact us for more information or to find out how you can be involved.