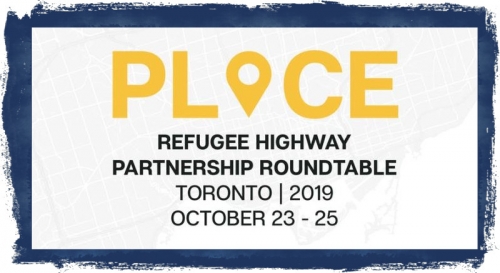 The Refugee Highway Partnership is a network of Christians, churches and organizations who have found common cause in the call of Jesus to "welcome the stranger" and extend hospitality to those in need.
The Roundtable is where we gather - the table is Round because we're in this together and need one another's voices. It's a place of inspiration, learning, sharing, and equipping. It is a space where diverse ministries, services, and individuals find one another in order to bring about action that would please the heart of Jesus, as He sees us welcoming the stranger in our midst and showing the mercy that He first offered us.
This year's theme is "PLACE" looking into thoughts from Exodus 33:21:
"Then the LORD said, "There is a place near me where you may stand on a rock."
Location: The Peoples Church | 374 Sheppard Ave E | Toronto, ON
Date & Time: Wed, Oct 23, 2019 @ 9:00am - Friday, Oct 25, 2019 @ 2;30pm
Register on-line here.
Refugee Rights Day is celebrated each year in Canada on April 4th. It is an opportunity to bring attention to the advances made in the protection of refugee rights in Canada as a result of the Singh Decision. Refugee Rights Day is also a time to learn about the threats to those rights.
You can get more information about the Supreme Court's 1985 Singh decision, and the importance of that decision today, along with other practical resources to assist you in promoting Refugee Rights Day in your community.