Arley has lived, worked and taught in Pakistan, India and Afghanistan with Operation Mobilization for over 40 years. He specializes in Persian culture and studies. Today, he and his wife are watching in dismay as many of the people they know and love have been forced to flee the Taliban in Afghanistan.
The Loewen's passion is to empower Afghan followers of Jesus so they can flourish in their lives in God's Kingdom. As husband and wife, Arley and Janice do discipleship training among Afghan believers around the world, as well as run Family Life seminars for first generation followers of Jesus from Muslim backgrounds.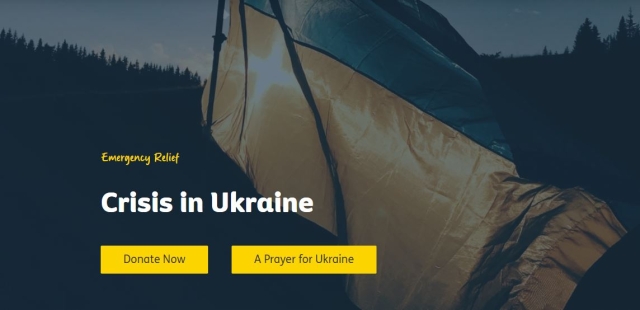 The AGC is partnering with Tearfund to help bring emergency relief to Ukrainians today.
Thousands of Ukrainian women and children have abandoned their homes. They are terrified that if they stay, their lives will be threatened. They are fleeing to the borders, praying their neighbours will let them in.
Their husbands, fathers and sons cannot go with them. The Ukrainian government has held them back to fight.
As the situation changes hour by hour, we want you to know that our partners on the ground are springing into action, especially those situated in border countries, preparing to welcome and support those in most need.

"Joyful in hope, patient in affliction, faithful in prayer."
In some parts of the world, choosing to follow Christ can be dangerous, and even life-threatening. Carrying the name "Christian" can lead to physical harm, loss of livelihood, arrest or even death.
Persecuted believers who have been forcibly displaced from their homes live with the added burden of being isolated and cut off from friends and family. Recent Covid-19 restrictions have given us a small taste of something our brothers and sisters living with persecution have endured for years - without the threat of death or arrest when we do venture out.
Today, more than 260 million Christians are suffering and persecuted for their faith in Jesus Christ.
Our different circumstances and our geographical location can leave us feeling separated and unsure of how to help. The Canadian International Day of Prayer for the Persecuted Church (IDOP) provides a practical way stand with those who have lost so much.
Sunday, November 1 has been identified as "IDOP Sunday" this year. A video, suggested scriptures, children's material and other resources are available to help congregations, groups, and individuals pray effectively for our persecuted brothers and sisters.
Read more: International Day of Prayer for the Persecuted Church 2020