Australian Diaspora Steps Up
Ads-Up Canada is a group of Australians and Canadians working to sponsor Manus and Nauru refugees who have been detained indefinitely by the Australian government. They are looking for partners in Canada after refugee resettlement was cut so drastically by the USA.
I first heard about Manus Island after receiving an email several months ago from a refugee who had been stranded there. It was a disturbing note as he described living conditions on what was essentially a prison island. I had never heard of such a place, and it didn't sound like something the Australian government would allow, so I went looking to see what I could learn. The facts are more painful than I could have imagined.
What is the Refugee Highway? Where is it? Who travels this Highway?
This 6 minute video will answer these questions and describe how the church is particularly equipped to respond with the compassion, grace and love of Jesus to those who find themselves on it.
We encourage every congregation to watch and then pray to understand how they should respond to the ongoing global crisis.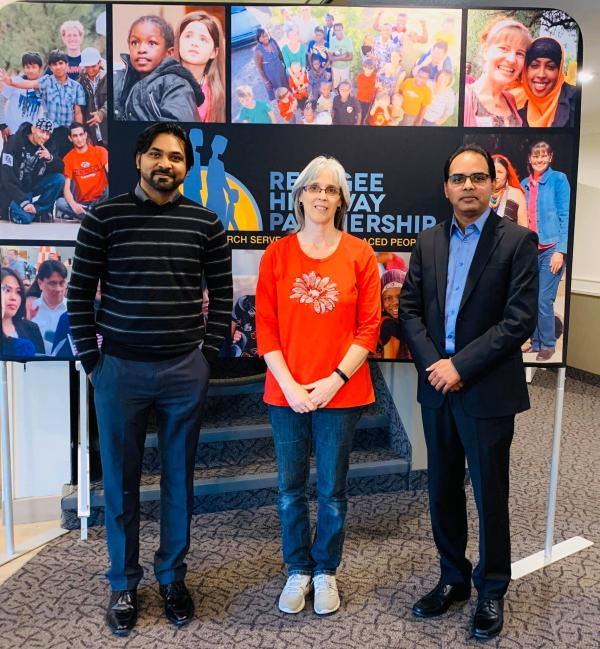 I had the privilege of meeting Farrukh Mushtaq (far right in this photo) and his brother of Refugees 4 Refugees at the Refugee Highway Partnership Roundtable in Toronto in October, 2019. He was part of a group that had been invited to lead the worship at one of the plenery sessions - authentic Pakistani music complete with harmonium and a drummer like I have never heard before!
Farrukh was also one of the featured speakers, sharing his story of life in Pakistan, the blasphemy accusations, his family's flight to Vietnam then Sri Lanka, before coming to Canada. He and his family have lived the refugee story. He knows what it is like to leave everything behind or be killed, and he knows what it is to be forcibly displaced, surviving as you can in a country that has no place for you.