Written by

Susan Davis
Alex, a native of Burundi, is currently living in Uganda, a refugee. Here you'll catch a glimpse of a young man articulate and kind hearted, even after the violence he has suffered.
World Refugee Day: June 20th
A friend of mine asked me what this DAY signifies to me...
Today is not just another day when I get to hear about stories of refugees. Today is not another day when I get to read reports or articles of the UNHCR about refugees or asylum seekers.
Today is another day when I am reminded of the sad truth that I personally experienced as a teenager and now growing into it. About 70.8 million people worldwide have been forced to flee their home countries due to war, conflict and persecution and about 30 million of them are under the age of 18 (UN Refugee Agency). It is real, the world is terribly suffering.
Today, am reminded of the day I had to take a bus alone for 20 hours straight leaving my family and everything I knew, to save my life. I crossed two borders in freezing cold weather, arrived in a foreign country and applied for asylum (a term that I had heard only in Movies back then).
Written by

Susan Davis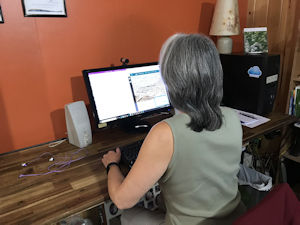 Among the many emails I received in January 2019, one was from a young father named Mahdi,* a Syrian refugee in Jordan with his wife and their 2 young children. His mother fled with them when they left Syria. I do not know what happened to his father. He has not said, and I have not asked.
Over the course of the year we have become friends of a sort. He has internet access and time, so he has learned alot about Canada. Unlike others, he knows that it is not winter all year round in Canada!
"I know that Canada has a summer, but with nice temperatures, Canada's winter is warm like the hearts of Canadians and the gentle autumn like the smiles of Canadians and spring gives the fragrance from the heart of Canadians and the summer is as beautiful as the morals of Canadians, a tribute to the land that received the stranger and refugees gently and generously from all over the earth."
If he ever makes it here and spends a winter in any part of Canada other than Vancourver Island I expect he may describe it differently!