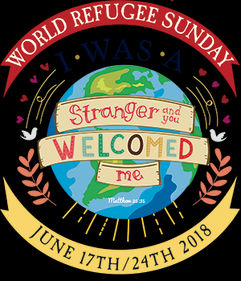 World Refugee Sunday is held annually on the Sundays before and after June 20 (World Refugee Day) to:
corporately remember the needs of refugees,
to participate together in prayer for refugees & displaced people,
to respond in practical ways to both ease the burden of those who have been displaced, and
to spread the word among our peers to get involved and be inspired to offer hospitality and hope to refugees.
65.6 million women, children and men were forcibly displaced in the world at the beginning of 2017. An incomprehensible 28,800 people were forced to flee their homes every day in 2016. There are currently more than 21.5 million refugees in our world today. On a positive note, 189,300 refugees were resettled in 2016, and specific to Canada, 46,700 refugees were resettled here in 2017!
World Refugee Sunday: June 17 and 24, 2018
Choose one or both of these days to plan a worship service using some of the resources and useful links available at these sites: