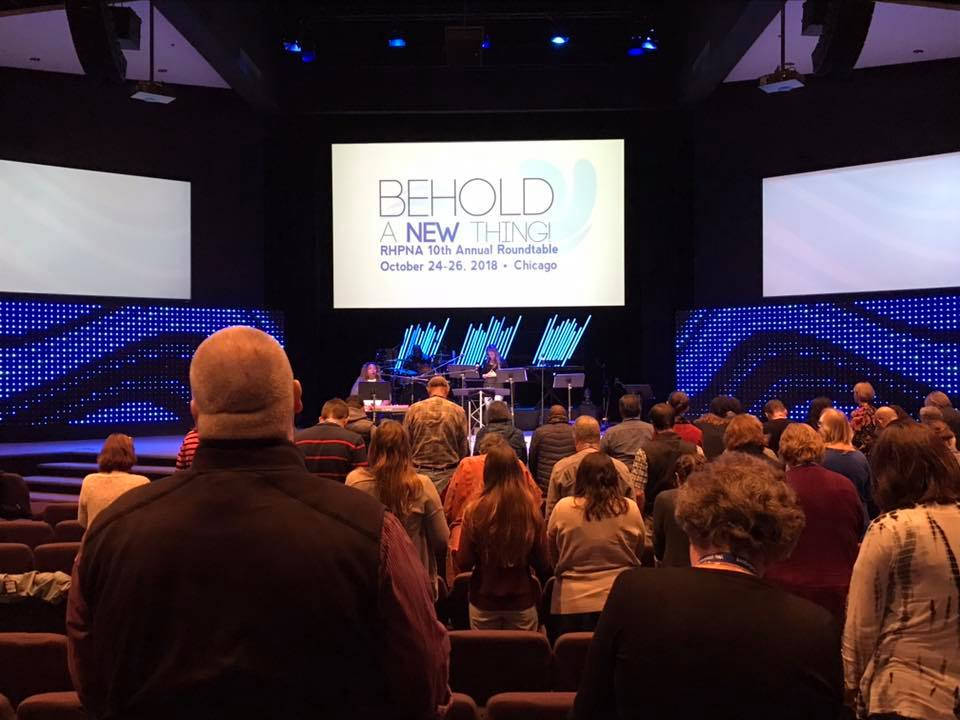 I was glad to attend the North American Refugee Highway Partnership 10th Annual Roundtable in Chicago last month. This was a 2.5 day event for specifically Christian organizations and stakeholders working on behalf of refugees, asylum seekers and forcibly displaced people around the world and in our communities. There were plenery sessions, multiple workshops with opportunity for "roundtable discussions," times of worship ... and former refugees told their stories of displacement, flight, survival and eventual resettlement in the USA.
There were almost 200 in attendance; about 30 from Canada. It was an excellent opportunity to network, to meet people who have been working with refugees and newcomers for much longer than us, and to hear the challenges that different organizations are facing in their work on behalf of refugees.
Personally, I was looking for information or material that church leadership could use to introduce refugee sponsorship to a congregation that perhaps either hadn't considered it, or that excluded itself due to location or size. Here is what I found:
The International Association for Refugees has put together a 2-page "What Local Church Leaders Can Do" paper with 10 helpful points that include links and practical ideas. Other resources you'll find here include:
a downloadable map of the "Refugee Highway." IAFR designed this stunning and informative poster to raise awareness about the realities of the Refugee Highway and of our mandate to love the alien as we love ourselves.
20 different publications including "Refugee Realities FAQ |2018"; Refugees in the Bible; 10 Ways to Pray for Refugees; and more.
a list of books and videos dealing with issues related to forced migration. We also recommend "Human Flow" by Al Weiwei available online.
A powerful 6 minute video called "The Refugee Highway" to download and share.
Although distinctly American, the Evangelical Immigration Table is a site designed with tools, sermon examples, quotations, statistics and graphics you can share. Scroll down to the green rectangular boxes labelled "Sermon Outlines; FAQs; Additional Resources" where you will find 2 sermon outlines and other resources designed specifically for church leadership.
The most difficult part of the Roundtable were the stories from former refugees. Even years after finding safety, you can hear the rawness in their voice as they retell the story of the day their world came undone. What struck me most was the ordinariness of their lives - working on a farm, arranging business meetings, taking children to violin lessons - and then everything being turned upside down. And the heart-wrenching realization that they would have to leave everything to go somewhere else. Only able to take what they could physically carry. How does one choose? And then all the uncertainties. Many left with no idea of where they would end up. Everyone left knowing there was a high probability that not all would arrive.
As I travelled home again, I was fully aware that we live in a broken world. And this is where God calls His children to be light, to bring hope, to live with mercy, love, compassion and hospitality; to treat these "others" that God has also knit together in their mother's womb with respect, dignity, kindness and equity. Refugees are strong. Refugees are resilient. Refugees have lived through more than we will ever know.
It is an honor to walk alongside them for a small part of their journey.
Next year, the Roundtable will be hosted in Toronto, Ontario, October 23 - 25, 2019. Mark your calendars now and plan to join us there.